All-in-one solution for your business and personal growth
A single app to increase productivity, efficiency and creativity of any business or individual for its optimal growth and scalability.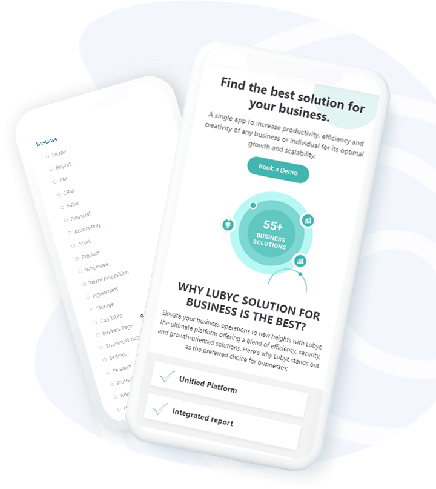 Lubycate your business
Lubyc business solution is applicable for any size of the business in any industry. However, small and medium size businesses get the most benefits because of its one stop solution capability and pricing.

55+ Modules
Lubyc offers 55+ different modules to operate business for it's optimal growth.

Summary Report
Executives, managers or employees can get their summary report and status within a second.

Minimum to zero integration
Minimum or zero integration is required since Lubyc provides business solution in one single platform

Productivity and Engagement
Lubyc increases productivity and creativity engaging all personnel in every way possible using its innovative platform.
Lubycate your Personal life
Public searchable profile can be created for your complete virtual existence to show actually who you are.

35+ Modules
Lubyc offers 35+ different modules for any individual's personal growth and scalability.

Public Profile
You can create your public searchable profile with a unique link to represent yourself globally.

Passive Income
You can use lubyc and at the same time earn money in so many ways.

Community Leaders
Lubyc help you become a leader within your community to present Lubyc locally.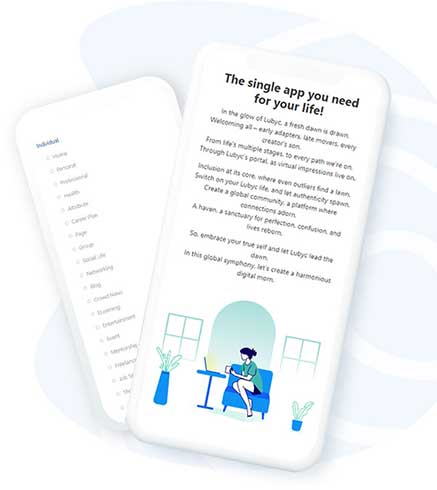 Why lubyc was born?
Lubyc has been created to fill a gap in the market for comprehensive, integrated business and personal growth software solutions. In today's fast-paced digital landscape, businesses and individuals often have to juggle multiple platforms to manage different aspects of their operations or personal growth. This can lead to inefficiencies, miscommunication, and missed opportunities. Lubyc is born out of a desire to streamline this process, providing a one-stop platform that integrates a wide array of functionalities for businesses and individuals considering:
Visionary LUBYC
An unmet need was found for both business and individual by a top university alumni and come up with a unique and most innovative solution to address it!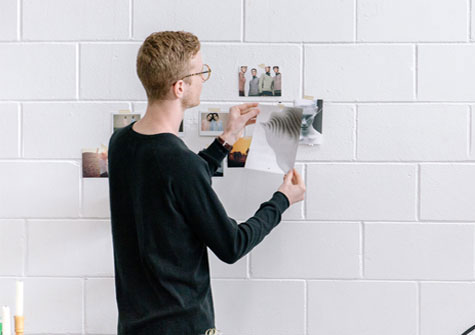 World class leadership
All of our founding leaders are from top-ten university in the world such as Harvard, Stanford, Yale and University of Chicago. They are well established in their professional life as well.They have lots of business experiences including companies and their operation, finance, legal, product, and so on that leads to build today's Lubyc.
World class product
Lubyc is the most innovative and advanced cloud solution on the planet at this moment for its intuitiveness, versatility, strength and capability. It is the most complete all-in-one solution that provides more then 55 modules which has thousand of features to change not only the business world, the global community as well.
World class community
Lubyc is all about quality and outcome. It creates the 100% verified, transparent, inclusive and diversified community for both the business and individual in the world. Lubyc community is noise-free, productive and respectful.This is the community everyone wants to be a part of and feels proud!
Who is our
ideal user?
Lubyc serves as an optimal platform for businesses—be it companies, SMEs, or large corporations—looking for an all-in-one solution to streamline operations and foster collaboration. On the individual front, it caters to professionals, job seekers, and freelancers seeking career growth, job opportunities, and operational efficiency. Moreover, its eLearning feature makes it a robust tool for anyone aiming for skill development and personal growth.
Speed and quality in real time
Increase productivity with a simple and single app for business and individual.

Real time activities
Real-time tracking for instant updates and seamless management.

High quality
High-quality user experience with meticulous attention to detail.

Fast Performance
Fast performance for seamless navigation and quick operations.
Our Community
Lubyc fosters a vibrant business community, uniting companies, SMEs, and large corporations under one platform. It facilitates collaboration, networking, and operational efficiency among businesses, fostering growth and innovation. On the individual front, Lubyc connects professionals, job seekers, freelancers, and learners, creating a dynamic space for career progression, job opportunities, skill development, and personal growth.
50+Countries Global Users
65k+Business Users
10X+Annual Growth

Data privacy & security
Your data is 100% safe and secured since Lubyc does not share any data with 3rd parties.
Price for Business and Individual
At Lubyc, we've structured our pricing to cater to businesses and individuals alike. Businesses can get started with our no-cost basic package, or choose from our range of comprehensive paid packages, each designed to address different business sizes and requirements. Similarly, individuals can opt for our free package or upgrade to one of our premium plans, offering enhanced features and functionalities for a seamless life management experience. With competitive pricing that reflects the value and convenience Lubyc brings, both businesses and individuals can find a plan that's tailored to their needs. Please visit our business or individual pages for package details. Begin your Lubyc journey today and experience the difference.
How lubyc can help
Lubyc is a comprehensive platform that enhances business and individual by streamlining multiple functionalities into a single, integrated solution, thereby boosting productivity and facilitating growth.

Profile Completion

Predictive Analysis

Recommendation

Execution